Kick the *&%! Out of Cancer!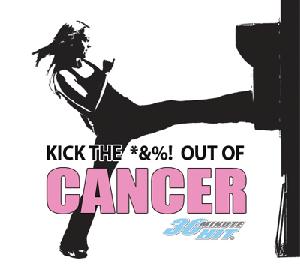 As many of you know I belong to a local women's only gym called 30 Minute Hit. "The Hit" as it's often referred to is a high intensity, action-packed boxing/kick-boxing circuit workout. It's only 30 minutes long and you literally feel like you've had your butt kicked when you're done.  Every October in support of the BC Cancer Foundation they throw a month long fundraiser. They get the majority of the members to register and have family and friends pledge their work out goals to raise funds. They also host pub nights, extra boot camps and guys nights all to raise money for cancer research. I unfortunately haven't been to the gym in a while, due to work schedules, Evan's schedule and of course taking care of Hazel. I know excuses are for losers but it's been tough. Needless to say I didn't register  for the fundraiser myself this year but will be doing my part and pledging my fellow hitters. Having known people that have passed to cancer and having recently had a friend who went through a cancer scare, we need to find a cure for this horrible disease. So I am asking you my friends and followers to help me Kick the *&%! out of Cancer by making a donation to the BC Cancer Foundation. You can pledge directly to the fundraiser, pick a specific team or a specific team member. Thank you for your help and support and remember no donation is too small!
Click here to donate to the 30 Minute Hit Kick the *&%! Out of Cancer Fundraiser.
Xo. Andria